Blackboard changes Summer 2021
Kaltura read-only from September 2021
The Kaltura media platform will not be available for recording video from September 2021. Existing content will be accessible but no new content will be able to be added or recorded. Panopto and Collaborate fully replace Kaltura, including student video assessments, and all media content required for Blackboard courses should be uploaded to Panopto.
Guidance on Panopto and Collaborate video assessments is available on the Blackboard Support website:
Collaborate Student Assessments
Using Panopto with Online Assessment
Blackboard Ultra Base Navigation
From 31st August, Blackboard will have a more modern look and feel. A more accessible, mobile-friendly left side navigation known as Ultra Base Navigation will replace the tabs at the top of every page, providing faster access to important information and giving more space for course content. The functionality of Blackboard and courses will remain the same. Please also see our Top questions about Blackboard Ultra Base Navigation.
Why are we making the change?
It provides a more accessible, modern, mobile friendly navigation that allows quicker access to important information
It provides consistency with the Blackboard Mobile App
It will allow UWE Bristol to evaluate Blackboard Ultra courses at the appropriate time as part of the VLE review (Courses can be switched on individually)
What is the impact of the change?
Navigation is via a left hand side menu rather than tabs across the top of the page
There is no impact to courses themselves, just more screen space without the top navigation menu. Courses open in a layer on top of the Ultra Base Navigation.
Existing functionality is retained - Programmatic Blackboard and student Coursework tab are available from the new navigation
Courses can be accessed through the new course listing or via Programmatic Blackboard as before
Tools are available via a dedicated tools area
Text content is available via the new help icon and will replace the existing Staff and Library tabs
There is a new activity stream which is a roll-up of all course updates
The Course Messages tool is now prominent on the navigation menu
When will it be available?
Blackboard Ultra Base Navigation is scheduled to be switched on at the end of August
There will be no impact to system availability
Please also see our Top questions about Blackboard Ultra Base Navigation.
Screenshots of what Ultra Base Navigation will look like
Programmatic Landing page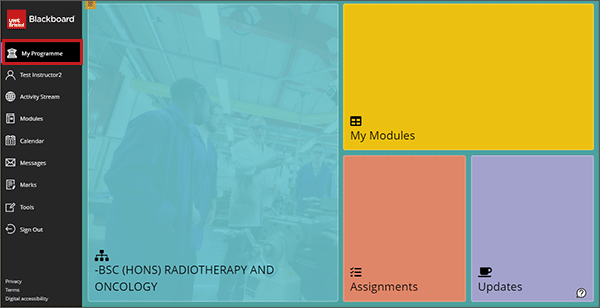 Student Coursework area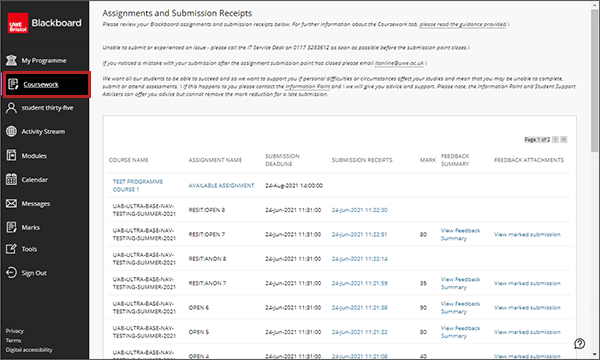 Activity Stream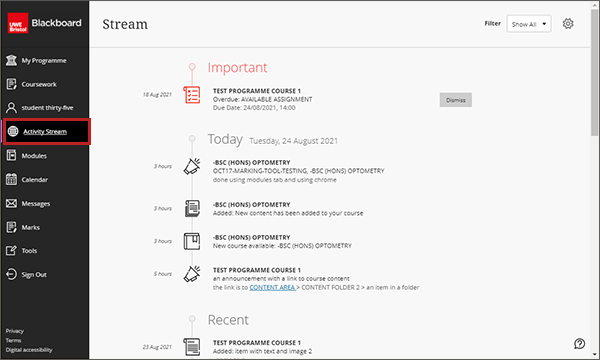 Course list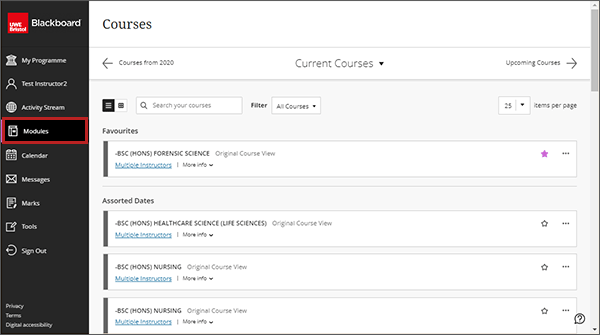 Tools list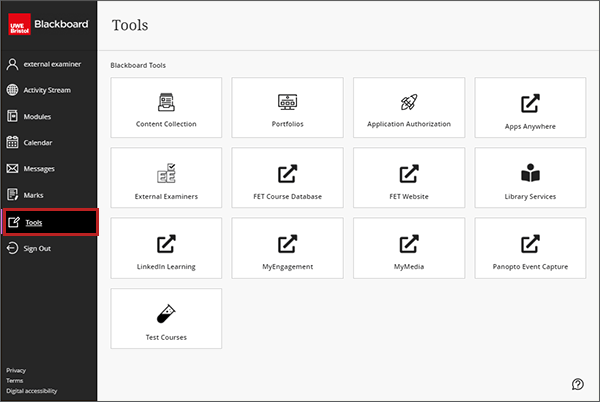 Inside a Blackboard module as staff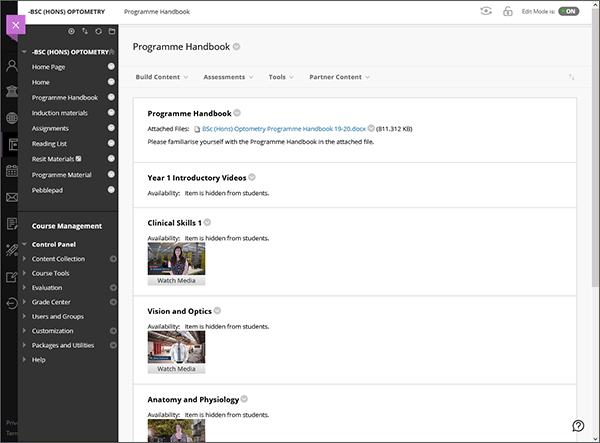 Inside a Blackboard module as student