Creating a Grade Centre column to enter your marks
If the marks you need to enter are for work submitted outside of Blackboard i.e. a presentation or a piece of artwork or an exam, then you will need to manually create a column in the Grade Centre where you can then enter the marks.
QUICK STEPS: Creating a Grade Centre column
Enter the course

Control Panel

and select

Grade Centre

then

Full Grade Centre

.
Select

Create Column

.
Enter a

Column Name

.
Enter the

Points Possible



Important
This must match the points possible recorded for the assessment work item in ISIS (provided in the email confirming the assessment's inclusion in Grade Column Mapping). The work item is sometimes referred to as the "element" - the work item(s) sit within the component(s). If you are not sure what points possible value is set for the work item in ISIS or what the work item is, please check with your faculty SAT. ISIS will convert the points value into a percentage.
If you do not want your students to be able to see the marks, you must set both the Include this Column in Grade Centre Calculations option and the Show this column to students option to No.

If you do want your students to be able to see marks you need to set these options to Yes.

Students do not have access to the Grade Centre, but have a view of the Grade Centre through a tool in Blackboard called My Grades. This is where they will see Grade Centre marks provided that the column is visible to students.

Select

Submit

and you will see that your column is now added to the Grade Centre. This is where you need to add your marks.


Please only add marks for students who did make an attempt. Do not enter a mark of zero for any non-submitting students as this will be interpreted as an attempt rather than a non-submission. Non-submissions should be left blank.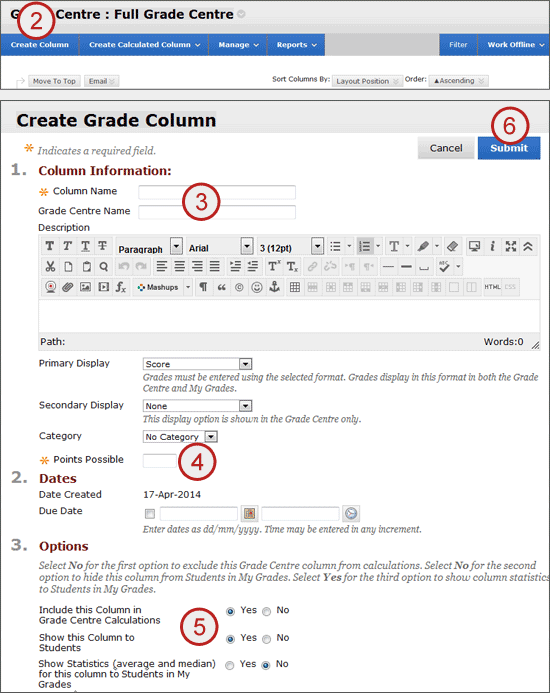 Calculated columns
You can also map manually created calculated columns - a column where the data from two or more grade columns is used to make the calculation.
Important
The total points in the calculated column must match the total points recorded in ISIS for the assessment (provided in the email confirming assessment's inclusion in Grade Column Mapping). Changing the display type to percentage will not release the marks as out of 100. If your calculated column's total points does not equal the total points recorded in ISIS, please contact Learning & Research Systems for advice.
There are four types of calculated column: average grade; minimum or maximum grade; total grade and weighted grades.
Important note about non-submissions
When creating a calculated column to be mapped, in order for non-submissions to show correctly as non-submissions, you must keep the Calculate as running total option default of Yes. If you change this to No, non-submissions will display in the calculated column as zero and therefore when the column is mapped, students who didn't submit will get a zero rather than a Non-Submission.