SafeAssign Frequently Asked Questions
SafeAssign is a plagiarism prevention service provided by Blackboard and helps identify plagiarism by detecting unoriginal content in student papers. It does so by comparing student submissions to a range of internet resources, articles and other students' submissions. In addition to acting as a plagiarism deterrent, this can help students learn about plagiarism and the importance of proper attribution of any borrowed content.
How can SafeAssign be used?
SafeAssign can be used in several ways:
Blackboard assignments can be set up with SafeAssign enabled. The student makes their submission and the work can then be collected by instructors through Blackboard together with a SafeAssign Originality Report, which details the results of the matching process.
Students may use the 'Plagiarism and Referencing Check' self enrol course to check their work prior to making their real coursework submission via the Blackboard Coursework tab.
Instructors may upload student work they have collected in electronic format from other means, through the 'Direct Submit' feature of SafeAssign.
How long does it take to generate plagiarism reports?
Reports are usually generated within 30 minutes of submission - however at peak times of the year this can extend to 24 Hours. Peak times will depend on volume of use of the service, but tend to be towards the end of each term.
I am having problems submitting, what do I do?
Check that your submission is in a supported file format and that the file size is under 10MB. If the problem persists please contact the IT Support Centre.
Why is my report coming back 100% matching?
You should only use the re-usable assignment BEFORE making your real coursework submission. If the real coursework submission is set up to automatically use SafeAssign, it will add your submitted files to the University's database - if you then do a test submission using the re-usable assignment, your test submission will receive a 100% match to your real submission.
If you don't believe this is the case, please contact the Learning & Research Systems team who will be able to check.
What file formats does SafeAssign support?
SafeAssign accepts files in .doc, .docx, .ppt, .pptx, .odt, .txt, .rtf, .pdf and .html file formats only.
Are there any restrictions about which characters I should use in my filenames?
Only use numbers, letters, hyphens and underscores in your filenames. Using other characters may cause problems with your submission.
Why aren't all my courses using SafeAssign?
Use of SafeAssign is your instructor's decision and will be a pedagogic decision. Instructors may choose to use SafeAssign differently on different courses, or perhaps not at all.
Can I submit more than once to an assignment that uses SafeAssign?
Possibly. If the assignment has been set to allow multiple submission attempts, then you will be able to make multiple submissions. Where multiple attempts are permitted, SafeAssign will not check against any previous attempts you have made to the same assignment.
What do the report scores mean?
The report scores can mean different things depending on the subject area of the report - please refer to our Interpreting the Report guidance. The Library also offers further advice and one to one support on plagiarism via the Study Skills Plagiarism webpage.
What information does SafeAssign provide in its reports?
A SafeAssign Originality Report highlights any blocks of text in submitted documents that match reference sources, and links back to the matching documents on the Internet or in supported content databases. SafeAssign reports also show similarity ratings for each matching sentence and allow instructors to view a line-by-line comparison of potentially unoriginal text from submitted papers and the matching external documents.
Can students view reports?
Where SafeAssign is used for summative online Blackboard submissions, students will not be able to see their report. For other Blackboard assignment submissions it is up to the instructor creating the assignment whether or not students are able to view the reports.
For submissions using the Plagiarism and Referencing Check course, students will be able to see all their historic submissions to the assignment in this course. Please see our Check your work using the re-usable SafeAssign facility guidance.
How do I view reports?
Once you have made your submission, you will be taken to the Review Submission History screen where you will be able to see the file(s) you uploaded plus any previous submission attempts you have made.
If you have been permitted to see the SafeAssign report, on the right hand side of this screen will be a SafeAssign section. Until the report has completed, the status will show as Report in Progress. You can return to this screen by opening the assignment from the relevant content area.
When the report has completed, you will see a percentage match and can expand the SafeAssign section to view the report.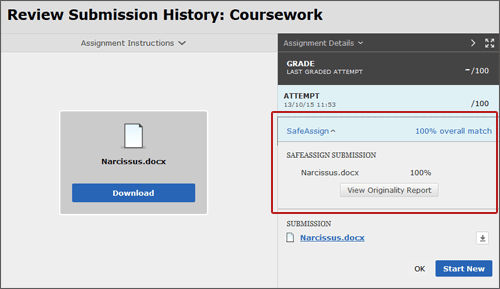 Where can I find guidance on Referencing?
The Library Study Skills website provides guidance on Referencing.