Interpreting the SafeAssign Report
Important - please note
SafeAssign is used to help detect plagiarism within an assessment by checking the wording of the assignment against a database of academic resources such as books and journal articles to see if there are any matches.
Outputs from the SafeAssign text matching tool can mean different things in different contexts and and disciplines. Therefore it is important to check the output carefully.
For example, scientific and mathematical subjects are likely to have a different level of matching from English or History. Although a result of 0% would generally be an indication that the work has not been plagiarised, this is not always the case.
The SafeAssign Report
The SafeAssign report provides extensive information to help you determine whether you are appropriately citing the works used for your assessments.
Take Note
Report Information
Citations
Manuscript text
Attachments - where more than one file submitted (toggle between files to see the different reports)
Printable view - print as pdf to download / share
Collapse right hand

Report Information

and

Citations

panel to have more room for viewing the text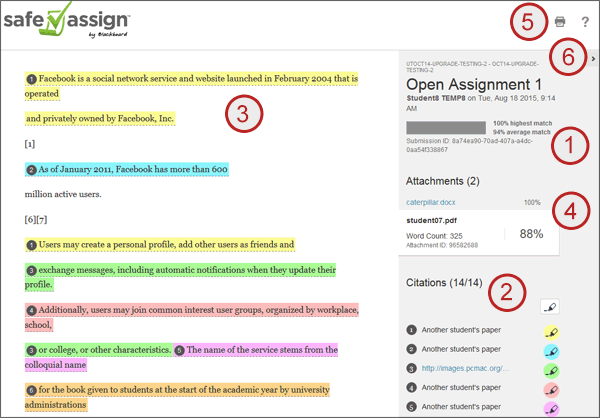 A SafeAssign originality report is divided into three areas: Report information; Citations and Manuscript text.
Citations
The sources which include text that matches the submitted paper's text are listed in the right panel of the report.
You can remove the highlighting from all the identified sources by clicking on the top highlight icon, or just remove highlighting from specific sources by clicking on the highlight option to the right of the source.
Manuscript text
The submitted paper appears in the left hand panel. All matching blocks of text are identified. Each source has a colour specific to the source — up to 30 unique colours for 30 different sources. Text matching a source is highlighted in the source colour and identified with a number. To view further information, click on the highlighted section and a pop up will appear showing the percentage match with the source text and the source text itself.

The system will highlight matched text, even if the resource has been properly referenced in the reference list at the end of the assignment. However, it acts as a useful reminder to cross check the resources that have been quoted/used in the text to ensure that they have been acknowledged.