Direct Submit
Direct Submit generates SafeAssign reports on papers submitted outside of an assignment. You can also use Direct Submit to add papers to the institutional database. For example, you can upload papers from an earlier course to ensure that current students are not reusing work.
With Direct Submit, you can:
Submit individual papers up to 10 MB in size
Submit zipped packages containing up to 100 papers
Please Note: Direct Submit does not work with zipped packages containing folders. Please strip out any folders from within your package and then re-zip before submitting.
You can upload files either to a Shared or Private area - if you want your colleagues on the module to also be able to access the reports, you must use the Shared area.
Shared: uploaded papers are viewable by other instructors.
Private: uploaded papers are only viewable by yourself. You can view the files within any course you are attached to.
You can also create new folders to organise submitted papers.
Important: When you delete files from Direct Submit, the papers will also be removed from the institutional database of existing materials.
QUICK STEPS:  using direct submit
From the

Control Panel

, under

Course Tools

, click

SafeAssign

.
On the

SafeAssign

page, click

Direct Submit

.
Choose either the

Private

or

Shared

area. If you want other instructors on the course to be able to access the reports, you must use the Shared area.
Select

Submit Paper

.
Set the

Submission Options

:

Submit as draft

- this will not add the paper to UWE' Institutional Database and as such future student submission will not be searched against the file.

Skip Plagiarism checking

- this will only add the paper to the UWE' Institutional Database so that future student submissions will be searched against the file.

Select

Browse

to upload a file or zip and navigate your computer to select the relevant file.
Alternatively, select

Copy/Paste Document

and paste the text directly to the

Paper Text

field.
Select

Submit

.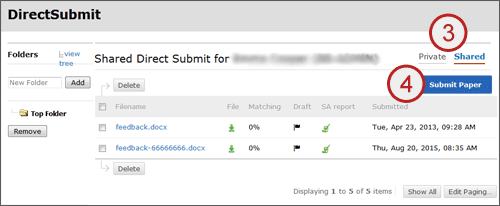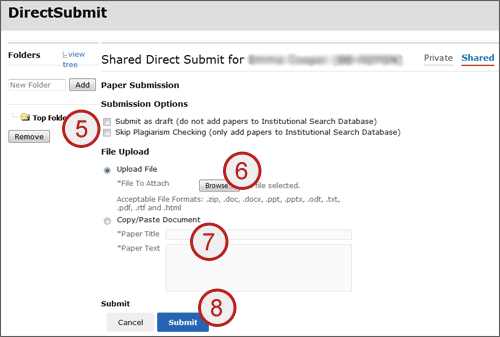 Please note: SafeAssign reports are not returned immediately. Please check back to the SafeAssign Direct Submit area after a short while to check if your report has completed.