My Modules on Programme landing page
The student view of My Modules is split into two tabs: Current Modules and Previous Modules. Both tabs have a search facility and can be filtered by year. To configure your display, click on the top right cog icon.
Current Modules
Current Modules are the current year modules that you have an enabled enrolment to. Against each module will be an icon to show the availability. Where a module has not been made available, you will not be able to access it - please contact the Module Leader to find out when it will be made available.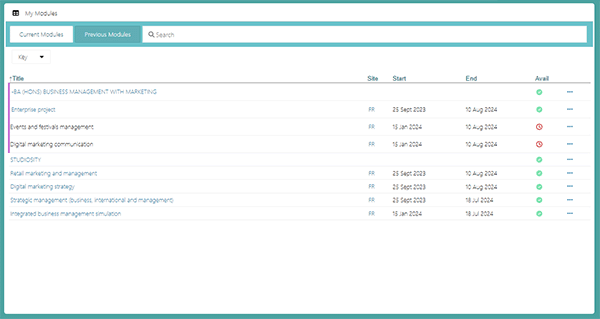 Previous Modules
Previous Modules are modules that you have completed throughout your programme of study, or courses that you no longer have an enrolment to (your enrolment is disabled).
Please be aware that course instructors only have access to a course for 180 days after the course ends. Historic courses will not generally be viewed or maintained by the instructors.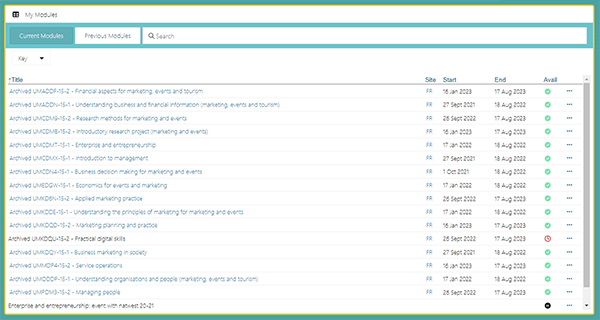 Module access and referred students
Resit runs of modules do not have separate Blackboard modules - the first run Blackboard module is be used for the resitting students.
During the resit period (from the first run field board date through to the resit run field board date), please be aware of the following:
If you are a referred student:
Your access to the first run module will continue.
Any automatically generated assignments for the resit will be in the 'Resit Materials' content area and will be prefixed with the word 'RESIT'.
Any assignment submissions for the resit will be displayed on the Blackboard Coursework tab and can be identified by the prefix 'RESIT'.
If you passed the first run and are not resitting:
You will still be able to see and access the course from your Previous Modules tab but with limited/guest access.
You will still be able to see and access your marks and feedback for Blackboard assignment submissions on the Blackboard Coursework area. However, during the resit period, you will not be able to access Marks / My Marks to view marks and feedback for other assessment types such as tests, wikis etc. Marks for summative assessments will still be visible in the myUWE Modules & Marks tab.
After the resit run field board date, full access to the Blackboard course will be reinstated.