The Coursework tab
The Coursework tab provides students with a complete overview of their Blackboard assignments including their submission receipts; their marks and feedback from instructors, all in one table view.
As soon as an assignment is available for submission, it will appear to you on the Coursework tab. Whilst the assignment is available for submission, there will be a clickable link directly into the assignment.
Resit Assignments - during the resit period, only the students who are resitting will see resit assignments. After the resit field board when the module is finished and archived, any historic resit assignments will be visible to all students not just those who needed to resit. If you are referred but unsure whether you need to submit to a resit assignment, please review the Assessment - Frequently Asked Questions webpage.
Who to contact should you have a query
If you are unable to submit or experienced an issue - please call the IT Service Desk on 0117 3283612 as soon as possible before the submission point closes.
If you noticed a mistake with your submission after the assignment submission point has closed - please email itonline@uwe.ac.uk.
We want all our students to be able to succeed and so we want to support you if personal difficulties or circumstances affect your studies and mean that you may be unable to complete, submit or attend assessments. If this happens to you please contact the Information Point and we will give you advice and support. Please note, the Information Point and Student Support Advisers can offer you advice but cannot remove the mark reduction for a late submission.
Queries about your mark or feedback - please check that the mark in your MarkingRecord.txt corresponds with the mark in Blackboard. If there is any discrepancy or if you have a different query about your mark or feedback, please contact your course instructor.
How is this different to the myUWE Coursework tab?
Online submissions through Blackboard will also be displayed on the Coursework tab in myUWE. However, the myUWE Coursework tab will also display submissions where you are expected to submit in hard copy with a downloadable coversheet from myUWE.
The Blackboard Coursework tab ONLY displays online submissions through Blackboard.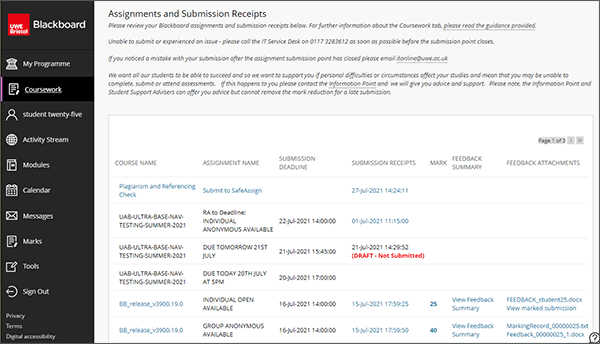 Take Note
The

Assignment Name

is a clickable link available from the start date and time, up to the end date and time (this includes the 24 hour late submission period). All times are UK time.
The most recent submission made will be a link under

Submission Receipts

- from there you will be able to check the file(s) you attached.
If you have made more than one submission to an assignment, you can select to

Show Previous Submissions

to see your earlier submissions. ONLY the latest submission made will be assessed.
The mark is against the latest submission you made
Any text based feedback from your instructor
A link is provided to any feedback documents attached by your instructor plus a

MartingRecord

txt file.
Availability of information contained in the Coursework tab
Modules which contain Blackboard assignments will be listed on this tab if you have an enabled enrolment on the module. Even if your instructor has made the course unavailable to students, you will still be able to view your submission receipts, your marks and any feedback for the course assignment.
For students which have a disabled enrolment on a module which you made a submission to previously (e.g. you have since changed modules), you will be able to see the historic submission plus any mark and feedback given. You will not see any current assignments for that module.
It is your responsibility to download any feedback you have received through the Coursework tab before your access to UWE systems ends..
Late submissions
Any submissions within the 24 hour window will be subject to a marks penalty. The marks you see listed in Blackboard are unconfirmed and BEFORE any penalties have been applied.
For information on penalties see the Guide to assessment rules.