Panopto Changes 25/06/22
On the 25/06/22 Panopto will be making changes to their cloud platform. This will change how users access certain functions. Our full guidance will be updated from the release date. There are 2 key changes:
---
Create button repositioned
The Panopto create button, used to create and upload recordings will be moving from the centre of the top of the screen to the left of the screen – above the navigation menu.
currently:

From June 25th 2022:

The Create button will still contain all the functions previously available.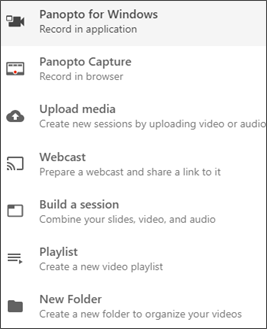 Download Panopto option
User icons will replace text-based username and help menu items.

The download Panopto option will also be removed from this menu bar.
To download Panopto users will now need to:
Click the Create button
Click Panopto for Windows
Click the Download Panopto button/Download installer button