Careers Registration
During the registration process students are encouraged to complete a quick careers questionnaire so that the University can help them to plan their career and professional development throughout their studies and beyond.
The questionnaire is available during the registration process for each year of study for a student.
As a personal tutor you will be able to see the results for your personal students, however, the amount data available will be dependent on the number of years the student has been studying and whether or not the student chose to fill in the questionnaire each year.
Note: The number of questions for each academic year may differ. This is due to amendments (additions/deletions of questions) that may have happened to the questionnaire for that round of the registration process.
After clicking on the Careers Registration link on the Tutees details page you will be presented with the Careers Registration screen for the particular student. Each academic year the student has filled in the survey will be represented by an academic year within a table. Clicking an academic year will show the questions posed to the student and they answers they gave.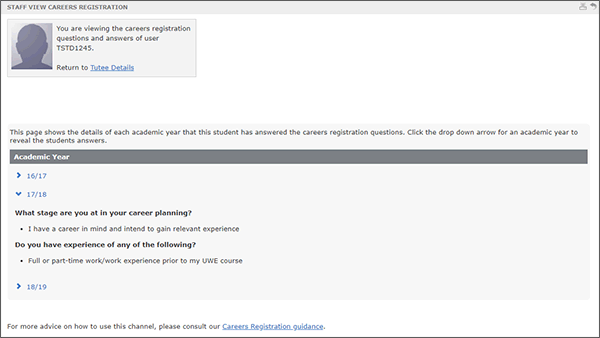 Note: If a student has not filled in the questionnaire, you will see the text – This student has not submitted any answers to any careers registration questions.