Timetable tab (for staff)
If you are a student, see our Timetable guidance.
The Timetable tab on staff MYUWE will be visible to members of staff who are on the SyllabusPlus database.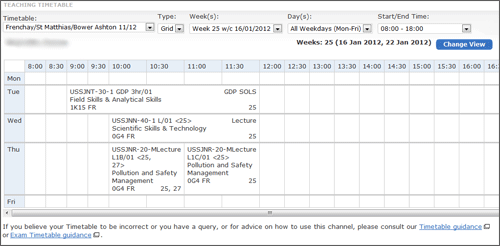 ---
Missing or incorrect timetable data
If you believe that you are in the SyllabusPlus database but you do not see a timetable tab in MYUWE, or if you see the tab but believe the timetable shown has missing or incorrect data, please contact your College timetabler or Central Timetabling.
---
Printing timetables
Printing depends on individual PC and browser settings. If your results do not print successfully, for example, columns have dropped off the page, try the following:
Change the page orientation
Select 'File', then 'Page setup' on your browser and change the orientation to 'landscape'
Reduce the margins
Select 'File', then 'Page setup' on your browser and reduce the left and right margins to zero
Change the zoom options
Select 'File', then 'Print Preview' on your browser and change the 'Zoom' from 'Shrink to Fit' to a percentage (for example, 60%)
---
Timetable layout
There are two possible layouts for your timetable, either 'Grid', which is the default, or 'List'. Both layouts will show the day, the start and end time, the activity, the module, the type of activity and the room details. However, the 'List' view will also display the names of staff attached to the activity.
To see your timetable, set the 'Week(s)', 'Day(s)' and 'Start/End Time' options and then select the 'Change View' button. The timetable for the period selected will then be displayed.
You may need to use the horizontal scroll bar to view all of your timetable.
iCalendar
For information on the iCalendar feed for UWE Bristol timetables, please see our iCalendar guidance.