HESA question for Online Registration
The Higher Education Statistic Agency (HESA), in an attempt to address certain discrepancies in the take-up of higher education opportunities between different social groups, requires us to collect information from you.
Depending on whether you have already provided us with the answer, you may be presented with the following question when entering the Registration tab.
We will only ask this question once, in your first year of starting at UWE Bristol.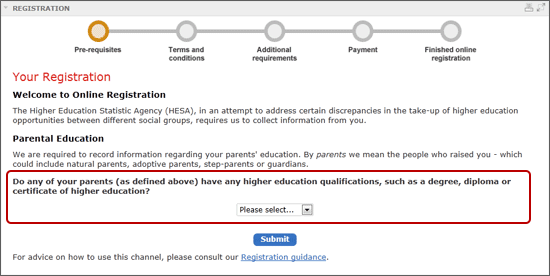 "Do any of your parents (as defined above) have any higher education qualifications, such as a degree, diploma or certificate of higher education?"
We are required to record information regarding your parents' education. By parents we mean the people who raised you - which could include natural parents, adoptive parents, step-parents or guardians.
The options are 'yes', 'no', 'don't know' or 'Prefer not to say'.