My Details tab: ID Photo subtab
Selecting the My Details tab will take you to the My Details section of myUWE. Below the main tab you will see five subtabs: Personal Details, ID Photo, Addresses, Car Parking and Documents.

ID Photo
What is ID Photo?
The UWE ID Photo facility allows new students to request a UWE ID Card online by uploading a suitable photograph.
Existing students who already have a UWE ID Card can also upload a new photograph here.
The photo upload function provides the ability to zoom and crop the photograph so that it fits the required size. It also includes facial detection software to ensure only photographs of full human faces are submitted.
The processing of this personal data is in accordance with the Data Protection Act 2018 as explained in the Terms and Conditions (opens in new window) of your registration at the University.
Your photographs will be used only for legitimate identification purposes connected with your studies, health and safety, student accommodation and security. They will not be disclosed to any third party.
If you are unable to use the photo upload facility, please e-mail uwecard@uwe.ac.uk.
Our Requirements
We require a passport-style photo. Your photo must be:
recent
in colour
of your full head, facing forward
without hat/cap, glasses or head covering (unless worn for religious belief or medical reasons)
taken against a light background
at least 293 pixels wide by 328 pixels high
no larger than 10MB in file size
of one of the following file formats:
New students
If you are a new student, the ID Photo subtab will have the option to 'Upload a photo' and to request a UWE ID Card online.

Select the 'Upload a photo' button and the 'Choose your new photo' page will be displayed.
Select 'Browse' to locate your photo file on your computer and then select 'Open'.
Select 'Upload' and the 'Crop your photo' page will be displayed.
Your photograph will appear in an example UWE ID card.
If you need to rotate your image, use the 'Rotate photo' button. Adjust the image to fit within the borders. To complete, select 'Crop Photo'. To cancel, select the 'Start Again' button or to go back to the 'Crop photo' page and select the 'Crop photo' link.
To continue with the upload, select 'Use this Photo'.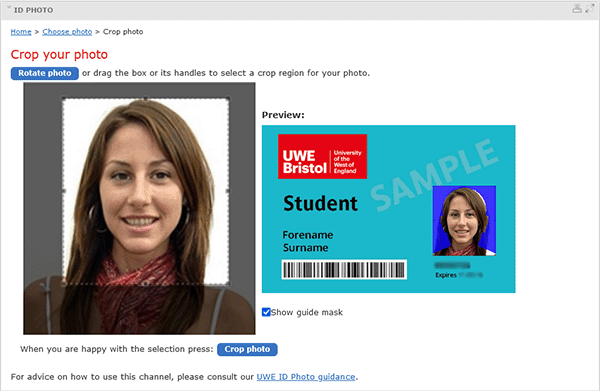 Once an application has been submitted, you cannot start another application until your UWE ID Card has been created.
When do I get my UWE ID Card?
You will be advised about ID card collection arrangements on your arrival. Please check on the Registration website for further details.
I want to change my photograph
Once you have a UWE ID Card, you can go into the ID Photo subtab at any time and upload a new photograph.
Your current photograph will be displayed on the initial 'Your UWE ID photo' page. Follow the steps above to upload a new photo.
Uploading a replacement photograph does not produce a new UWE ID Card.
The photograph shown in the ID Photo subtab will be used in staff systems, such as the Student Record system.
I want to order a new ID Card
If you have lost or broken your existing UWE ID Card, you can order a replacement card by following the UWE Online Store link on the 'Your UWE ID photo' page.

The replacement card will use the photograph which is uploaded at the point of ordering.