My Details tab: Personal Details subtab
Selecting the My Details tab will take you to the My Details section of myUWE. Below the main tab you will see five subtabs: Personal Details, ID Photo, Addresses, Car Parking and Documents.

Personal Details subtab
About You
This section contains your personal information (such as name, date of birth, personal email address, UWE email address etc).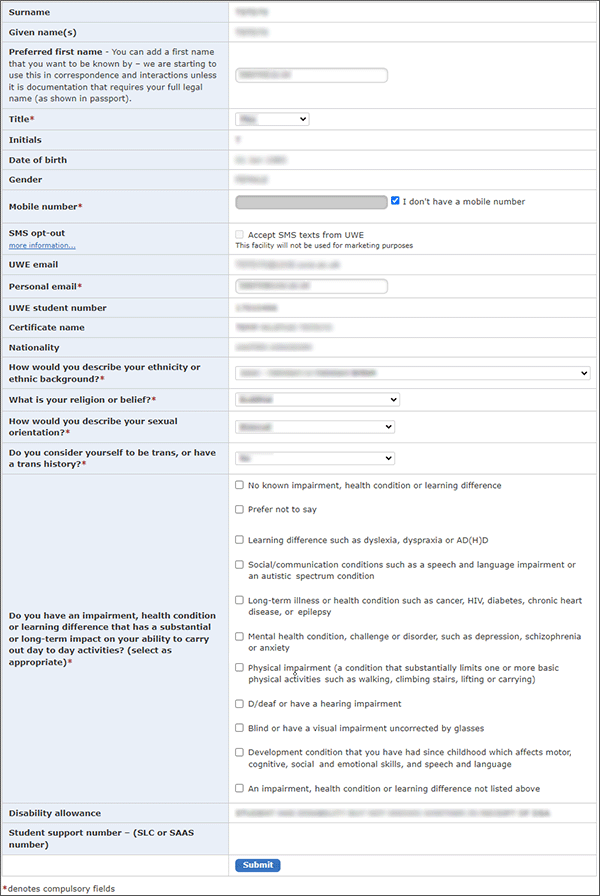 The details that are editable in this section are:
Title The titles of Miss, Mr, Mrs, Ms and Mx are available. If you have a different title that you would like reflected in your student record, you must contact the University. Once the change has been made it will be visible to you in My Details.
Mobile tel. This field is validated to ensure it is a valid UK or international number.

All mobile numbers must only contain numbers.
If you do not have a mobile number, please tick the 'I donít have a mobile number' tick box Ė This will also disable the SMS tick box.

Personal email You should enter your personal email address in this box. You cannot use this box to request an email address.
Disability Select as many as appropriate, click again to deselect. If you have selected one or more options other than "no known impairment, health condition or learning difference" please email your medical evidence to disability@uwe.ac.uk if you have not done so already. Reasonable adjustments can then be put in place and further advice offered. Please refer to guidance here for more info.
Ethnicity
Religious belief
Sexual orientation
Trans status
You are not able to change any of the following details in myUWE. If they are incorrect, please contact the University.
Surname
Forenames
Initials
Date of birth
Gender
UWE student no.
Certificate name: If you can see unusual characters in your Certificate name, it could be as a result of your browser and the way it displays some character sets. If you are concerned about how your name will appear on your certificate, please contact the University.
Nationality
Student support number
Disability allowance
If the information we hold about your disability allowance is incorrect, please make an appointment with the Disability Service. You can make an appointment at one of the Information Points.
SMS texting guidance for students
UWE Bristol uses an SMS texting system to contact students about specific matters such as lecture cancellations, room changes, module choice deadlines and emergency announcements.
Marketing texts will not be sent using this service.
You will be texted on the mobile number you provided in the Personal Details section (if you ticked the 'I donít have a mobile number' tick box, you will be opted out of the SMS text service). Please ensure your mobile number is correct.
In the myUWE portal, below your mobile number, you will see a tick box called 'Accept SMS texts from UWE'. By default, this tick box will be ticked to receive text messages from UWE. If you wish to opt-out and stop receiving texts from the University, please untick the box.

There are some occasions when you may still receive a text message, after unticking the 'Accept SMS texts from UWE' box. These include:
Exceptional emergency texts: The University will not take into account your opting-out option when sending exceptional emergency texts such as site closure.
Texts from the UWE Student Union (UWESU). The UWE Student Union has its own text messaging service, which is independent from UWE Bristol. This service may send marketing-related texts. To opt-in or out of the Student Union's texting service, please visit the UWE Students' Union website.
Important notes
The University will not text students with international mobile phone numbers.
Comments about SMS texting at UWE Bristol can be sent to the IT Support Centre.
---
Alumni Network
When you complete your course, you will become a member of the UWE Bristol Alumni network and some of your personal information will be shared with the Alumni office. This information will be processed by the University in accordance with the terms and conditions of the Data Protection Act 2018.
For more information, please consult the Alumni website.
---
Reasonable Adjustments

The University has a duty to make reasonable adjustments to make sure disabled students are not disadvantaged. Any reasonable adjustments to exams and teaching will be shown here. If these adjustments are not correct, please complete the Online Enquiry form. If you would like to discuss this in more depth, you can make a Disability Advice appointment at one of the Information Points.
Reasonable adjustments to deadlines and some other reasonable adjustments, such as access to support workers, will not be shown here.
Reasonable adjustments and exams - If you need reasonable adjustments, you must apply as soon as possible, and well in advance of the exam period.
For more information on the types of support available, please see our Get Disability Support webpage.
---
Contacts in the Event of an Emergency or Serious Concerns about your Health and Wellbeing
This section contains information about your preferred contact(s) in the event of an emergency or where the University has serious concerns that your health or wellbeing is at risk. Further information is available in the Fitness to Study Policy. You must enter details of at least one person who we can contact. If we do not currently hold details of any emergency contacts for you, then you will see an alert advising you to enter details for at least one person.
To add an emergency contact, select 'Add new contact'. The person's name and telephone number are compulsory.
The order in which the contacts are displayed will be the order in which the University will attempt to make contact with them in an emergency.
For each emergency contact you have added, you will have an 'Edit' option. If you have more than one contact listed, you will also have the option to 'Move up' or 'Move down' the list, or 'Remove' the contact. Once you've selected the appropriate action from the dropdown list, select the 'Go' button to the right.