My Details tab: Addresses subtab
Selecting the My Details tab will take you to the My Details section of myUWE. Below the main tab you will see five subtabs: Personal Details, ID Photo, Addresses, Car Parking and Documents.

Addresses subtab
Your registered addresses
We must have your home and term time address, so please add them in the Addresses channel here.
Your HOME address is your permanent residence in your home country.
Your TERM address is where you are living whilst studying at University.
Any current or future addresses that we have registered for you will be displayed on this page. Past addresses will be hidden but can still be viewed.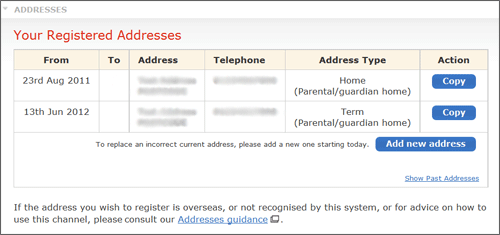 This section includes the following:
From - The date that the address became or becomes active
To - The date that you left or will leave the address
Address
Telephone
Address Type - Whether it is your home address, your term time address, etc
Action - Provides any actions available to the entry, i.e. 'remove' or 'copy'.
---
Editing, Copying and Removing addresses
Editing
You are unable to remove an existing address entry. If you have a new address, please add it with the same 'Address Type', e.g. Home, Term and a start date of today. This will then change the existing address entry to 'Past'.
Copying
If your HOME and TERM address is the same, please select the copy button. Enter the 'Address type', 'Telephone number' and 'Start Date'. Then select 'Use this address'.
Removing
Only future addresses may be removed.
To remove a future address, select the 'Remove' button in the 'Action' column and you will see a screen that asks you to confirm whether you wish to remove the address. Select 'Remove this address' to remove it or 'Cancel' to leave the address registered.
---
Past addresses
Past addresses are not removed but are hidden from your list of registered addresses. To see your past addresses, select the 'Show Past Addresses' link and they will be displayed at the top of the list with a light grey background. The 'Hide past addresses' link will hide past addresses from your view.
---
New addresses
myUWE cannot validate overseas or some new UK building addresses. If you need to validate one of these, please contact the University.
There are four types of addresses which you can add: home, term, work and placement. With the exception of placements, where you can have both a home placement address and a work placement address, you are only able to add one current address for each address type.
The table below details which types of addresses are available for you to choose:
Address Type
Home
(Only one current home address is permitted)
Own home
Parental/Guardian home
Other
Work
n/a
Term
(Only one current term address is permitted)
Own home
Parental/Guardian home
UWE Bristol maintained property
Company owned (UNITE etc)

This includes companies like: UNITE; Jarvis; Knightstone Housing; Opal; and Signpost Housing.

Other rented property
Other
Placement
(both placement addresses are permitted)
Residential
Work
How to add new address
Please follow the below instructions or watch this short video on how to change or add a new your address in myUWE.
To add a new address, follow these steps:
Either select the 'Add new address' button, or if you already have the address registered, select the 'Copy' button in the 'Action' column. You will then be taken to a screen where you can enter the address details:

Select the 'Address Type' from the drop-down list.
Complete the 'Start Date' from when you want the new address to take effect.
Enter the 'Telephone number'.
Enter the address details as fully as possible and then select 'Lookup address'. myUWE will then attempt to locate the address and return either a list of possible addresses or one single address.
If you are a resident in any UWE Bristol accommodation you can find some postcodes on the accommodation pages.
You should select the appropriate house name or number from the list of properties displayed. If the address is not listed, then select 'None of these addresses are correct'.
If the system is unable to recognise the correct address, you will need to contact the University.
Once you have selected the correct address, select the 'Use selected address' button.
myUWE will then fill in any missing address details automatically and display options to either 'Confirm', 'Change', or 'Cancel' the address. 'Cancel' takes you back to 'Your registered addresses'. 'Change' will take you back to the 'Add New Address' page. 'Confirm' will add the address and update the student record system.
Important correspondence will be sent from UWE Bristol to the addresses you specify, so you must ensure that you enter your address details correctly and keep them up-to-date.
---