Marks: GDP

The GDP link in myUWE enables students who are participating in the Graduate Development Programme to see their progress and to download a copy of the GDP Certificate. The GDP Certificate is a documentary record of participation and progress and provides valuable evidence of a student's achievement to prospective employers.
The Graduate Development Programme is for undergraduate students who started their undergraduate course before September 2012 and is a programme of activities which helps students to develop confidence and independence, enhancing their personal achievement and creating a really fulfilling university experience.
The GDP is an essential and integral part of an undergraduate academic programme. It will enable students to:
manage the transition into the first year at UWE and the progression from one stage/level to the next
develop university level learning skills and styles
develop the capacity for effective group work and learning with and from peers
see the importance of their role in UWE life and as a member of their subject degree group
develop a rounded appreciation of their academic programme and the connections between their modules and the wider world
plan their own 'preferred future' and develop the graduate skills, attributes and abilities that will help them to achieve their goals
recognise, describe and demonstrate their academic achievements and graduate skills.
For more details about the Graduate Development Programme please visit the GDP website.
GDP outcomes
If you are an undergraduate student and are participating* in the GDP your outcomes can be seen in myUWE within the Marks tab, GDP subtab. You can also download a GDP Certificate if one is available.
* The Academic Personal Tutor programme has now replaced the GDP so undergraduate students who started their course after September 2012 will have been assigned a Personal Tutor and will be participating in the APT programme and not in the GDP.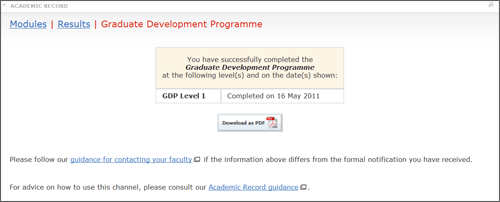 No Recorded GDP Outcomes
There is no record of GDP outcomes for you. This may be because:
You are not an undergraduate student
You are an undergraduate student but are not yet participating in the GDP
You are participating in the GDP but your outcomes have not yet been recorded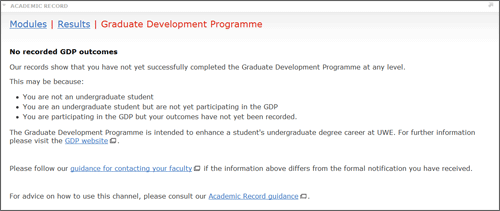 When will my GDP outcomes be available
Faculties normally enter GDP outcomes in the student record system following the examining boards in July and September. There is no fixed publication date for GDP and the availability of the GDP Certificate in myUWE may vary from faculty to faculty.
If you believe there has been an omission or an error in recording the GDP outcomes for you please contact the appropriate Faculty Student Administration Team (SAT) :