My info: My fees and payments
You can see your fees and payments in My info in MYUWE.
Follow the link to 'fees and payments information'. Here, you will see a summary of your student finances. There are three sections: Owed by You, Owed by Your Sponsor and Current Payment Arrangements.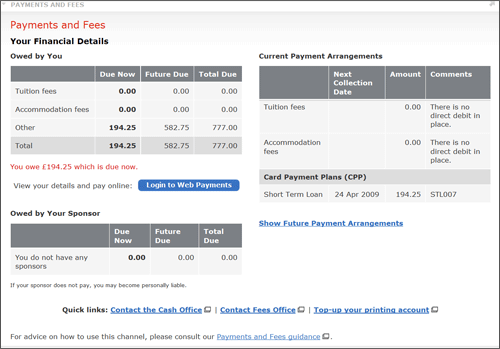 Owed by You
This section includes invoices owed by you and is split into:
Tuition fees
Accommodation fees
Other
This section includes invoices payable by Direct Debit or payment plan. It also shows any overpayments that have been made.
Only invoices that have been processed by the Finance department are included in this summary. You could owe the University other money, such as Library fines that have not yet been invoiced.
All amounts in the 'Due Now' column must be settled without delay. You can pay all due items online by clicking on the 'Login to Web Payments' button. You will need to login again to the secure payment site using your UWE Bristol username and password. Once you have logged in to your web payments, all your individual invoices will be displayed.
If you would like to discuss your account, contact us.
Owed by Your Sponsor
If you only have one sponsor, then the sponsor name will be displayed along with the financial position. If you have more than one sponsor, the name will be 'You have multiple sponsors'.
The financial position of your sponsors is for information only. However, if your sponsor does not pay, you may become personally liable.
Current Payment Arrangements
Current payment arrangements include Direct Debits and card payment plans (often called recurring card payments).
Direct Debits
The current status of your Direct Debits is displayed. Ignore this section if you do not need to set up a Direct Debit for tuition fees or accommodation fees. A summary line will always be displayed for tuition fees and accommodation fees.
Assuming you have set up your Direct Debit and UWE Bristol has processed your invoice, the next payment date and amount will be displayed. If you think there may be problems collecting the payment on the date shown, then contact us.
You can create or amend Direct Debits online (you will need to log in with your student number and date of birth). To amend your Direct Debit, you need to create a new mandate with the relevant bank details.
Card Payment Plans
Currently, card payment plans can only be set up for accommodation fees or by request with the Cash office. If you do not have any card payment plans with the University, then nothing will be displayed.
Card payment plans work in the same way as Direct Debits, but payments are taken from a debit or credit card.
The next payment date and amount is displayed with your payment plan reference number. If you would like to discuss or amend your payment plan then contact us.
The 'Show Future Payment Arrangements' link will display all payments due in collection date order. Once displayed the list can simply be hidden by clicking on 'Hide Future Payment Arrangements'.
Quick Links
There are links to Finance resources under the Quick Links heading.
Contact details
Cash office
Credit control
If you are unable to pay for your fees, have an outstanding balance or due a refund, email Credit control team at creditcontrol@uwe.ac.uk, or telephone +44 (0)117 32 87888, choosing option two.