Using Bookmarks
After logging into myUWE you will be able to see the 'Bookmarks' channel on the myUWE homepage.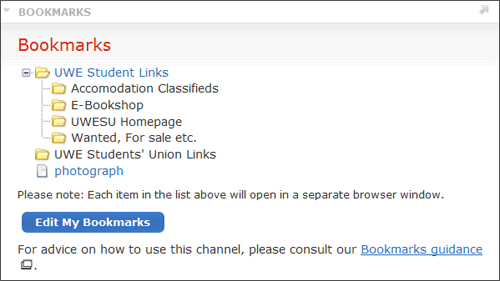 The 'Bookmarks' channel allows you to save URLs (web addresses) in myUWE. Like 'Favourites' in Internet Explorer, this will allow you to return to a particular site by making a record of it.
In addition to creating individual 'Bookmarks', myUWE allows you to organise them by placing them in 'Folders'. An open folder is displayed with a minus sign next to it and a closed folder is displayed with a plus sign.
Folders can be opened and closed by clicking on the plus or minus sign, or the folder's name.
Please note : Clicking on a Bookmark will open up and load the URL in a new window in your browser.
---
Edit My Bookmarks
Clicking on the 'Edit My Bookmarks' button allows you to create and organise your bookmarks.
Please note that you will be unable to edit the default UWE Student (or Staff) Links.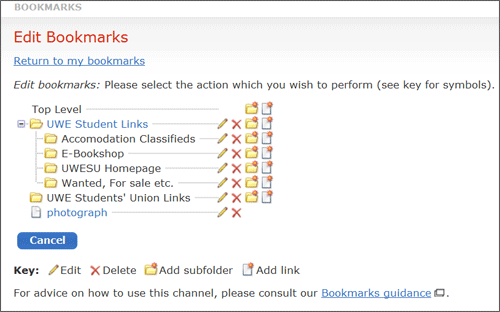 The 'Edit Bookmarks' options are displayed as icons. For an explanation of what each icon does please see below:
'Edit' - an existing link or folder's name, its URL, and location in any of your bookmark folders.
'Delete' - an existing bookmark link or folder.
'Add subfolder' - create a new folder.
'Add Link' - create new bookmark link. You need to name the link, enter the URL of the link, and indicate which folder you want the bookmark link to be placed (e.g. in the screenshot below the 'myUWE Home Page' bookmark will be placed in the UWE Student Links' folder). Please note that by selecting Top Level as the location of the bookmark, it will be placed outside any bookmark folders that currently exist.