Getting Started
Security / Logging in and out
How do I login to myUWE?
Either follow the 'Log in' link at the top of the UWE home page and then select the 'myUWE' option, or type https://my.uwe.ac.uk into the address field in your web browser.
In each case you will be taken to the UWE login page: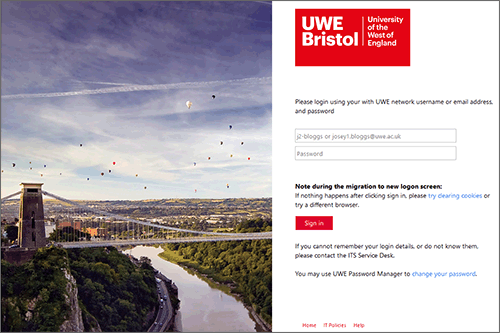 Here you will need to enter either your UWE email address or UWE username, and password.
It says I have used an incorrect username or password
When attempting to login to myUWE you may see the following error message:
Incorrect username and/or password, please try again. If you continue to see this message please go to the password manager and change your password.
There are a few possible reasons:
You have entered an incorrect password
If you have forgotten your password and would like a reminder or you want to have your password reset you will need to either:
You are not using the correct username
You should use your UWE network username and password to access myUWE. If you are unsure what your username is, please contact the appropriate Information Point for your campus for guidance.
Your passwords are not synchronised
You can synchronise your passwords using the Password Manager (there are additional instructions for students and instructions for staff on how to synchronise your password).
It says I need to enable JavaScript and Cookies
If you do not have JavaScript and/or Cookies enabled in your browser you will see the following message:
Please enable javascript and cookies in your browser. Test your browser.
For full instructions of how to enable JavaScript and Cookies please see our technical test.
Apologies - myUWE has encountered a problem
If there are problems with the myUWE application, you will see this error message:

Whilst the issue with myUWE is being looked into, the error message provides direct links to other systems such as Blackboard and UWE email so that you can access them directly.
Why have I been logged out?
You may have been automatically logged out of all the services accessed by myLogin (myUWE, Blackboard) because you have not used any of them for 30 minutes. This is called a 'session timeout' and is common with many web systems. Session timeouts are used to reduce the risk of other users gaining access to a student's personal information if they forget to log out of a portal session on a shared computer, for example, in the Library, a student lab, or an Internet cafe.
Although you may still be able to see myUWE or Blackboard in the window of your browser, you will effectively have had your session ended and been logged out. Sessions are kept active by actions such as selecting tabs, selecting buttons, and sending information.
Please note that if, after being logged out, you wish to continue using myUWE or Blackboard you will need to log back in using the UWE login page.
How do I logout of myUWE?
For security reasons we recommend that you logout when you stop using myUWE. This is especially important on computers that may be used by other people.
Simply select the 'Logout' link in the top-right corner of the screen. This will take you to the UWE Sign Out screen: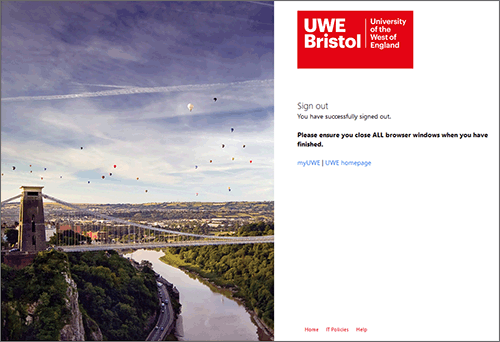 I've forgotten my password
Can I change my password?
Why can't I access myUWE?
Every person with an active UWE Network Account should have access to myUWE.
If you have been issued with a Temporary External User Account you will not be able to access myUWE. Please follow the information and guidance that appears on the login error page.
If your UWE Network Account has recently been updated or modified and you are having difficulties accessing myUWE please allow 24 hours and try again.
If you can't access myUWE please check your login credentials via https://password.uwe.ac.uk. If you continue to experience access problems please contact the appropriate Information Point for your campus, or Learning & Research Systems learning.systems@uwe.ac.uk.
Technical Information
What computer will I need to access myUWE?
Any computer on which you can access the web should be able to access myUWE.
However, your browser will have to be correctly set up for myUWE to work properly. There is an automatic technical test that will check if you have Javascript and Cookies enabled.
If after this test, you experience difficulties, please contact Learning & Research Systems learning.systems@uwe.ac.uk giving as much information as you can manage on your computer and web browser.
Support and Feedback
Where can I get support?
How do I contact my Faculty?
Please see the Contact Information pages for details on how to contact the appropriate person to help with your enquiry.