Courses tab: Student Reps subtab
Below the Courses tab you will see six subtabs: Blackboard Courses, Teaching Timetable, Exam Timetable, Combined Timetable, Coursework, Personal Tutors and Student Reps.

Student representatives who have completed the necessary training can publish announcements in myUWE to all students registered on the award or programme for which they are a student representative. This will enable them to communicate with you about any topical issues and to inform you about upcoming meetings of the Student Representative Staff Forums (SRSFs).
If you are a student representative and need guidance on publishing an announcement please see the myUWE guidance on Student Representatives use of Announcements.
So that you can identify and contact your student representative with confidence, the Student Reps channel in myUWE shows you a list of student representatives for your award or programme, together with their UWE email address.
The list indicates the Programme name and the level (or year) of the student representative: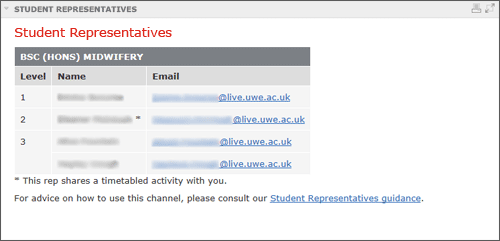 An asterisk indicates that the student representative shares a timetabled activity with you, giving you an idea about which student representatives you may know or with whom you may have an issue in common.
If you are a student representative and you do not appear on the list please contact the Students' Union student representatives coordinators at studentreps@uwe.ac.uk.
Some programmes are large and have several student representatives at each level so you may see a long list of student representatives. In these cases it doesn't really matter who you contact, if you have an issue to be addressed and you are not familiar with any of the names on the list, contact one and they will make sure the message gets through to the appropriate person. If possible, it will probably be helpful for you to contact a student representative who is at the same level (or year) as you.
Where no student representatives have been appointed for your programme, you will see this message:

If you are interested in becoming a student representative please visit the UWE Students' Union pages where you will find lots of helpful information on what it means to be a student representative.
If you are registered on more than one programme you will see both programmes listed: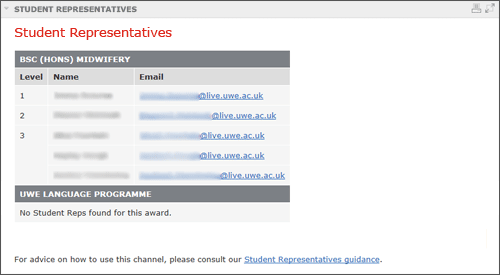 If you are a student representative you will not only see your own name in bold but will also know whether or not you are able to publish announcements to your student constituents. If you have not attended student representative training, this will be clearly indicated. If this applies to you please contact the UWE Students' Union student representative coordinators at studentreps@uwe.ac.uk who will be able to advise you on when the next training session will take place.