Courses tab: Personal Tutor subtab
Selecting the Courses tab will take you to the Courses section of myUWE. Below the main tab you should see six subtabs: Blackboard Courses, Teaching Timetable, Exam Timetable, Combined Timetable, Coursework, Personal Tutor and Student Reps.

All students who have a personal tutor should have Academic Personal Tutor (APT) activities scheduled in the timetable system, you may not be able to see the activity in your timetable because it is in the past. Students without an APT activity in the timetable system will not have the Personal Tutor tab.
There may be times during the change in the academic year when the Personal Tutor tab will not show for some students because the timetable for the past academic year has completed and the new timetable has not yet been published. The timetable for the academic year is published before the start of teaching each year so if you are looking for the tab during the summer and you previously had the Personal Tutor tab please do not be too concerned if you cannot see it. The Personal Tutor tab will be available when the new timetable has been published.
The groups of students who we expect to have the tab are:
Year 0, year 1, year 2 and year 3* students based at:
* With the exception of year 3 students studying Applied Sciences.
If you are a student in this list and you do not have the Personal Tutor tab please continue to keep in touch with your existing tutor and contact Central Timetabling, via the Timetable Self Help page, to let them know you do not have the Personal Tutor tab in myUWE.
All other students will continue to seek advice from student advisers at the Information Points.
For more information, please see the Academic Personal Tutor Programme web pages.
---
Personal Tutor
Personal Tutor allows students to have a one to one relationship with a specific tutor in order to help them with their academic studies. Your personal tutor will be able to:
See your UWE e-mail address
See your student number and user ID
See your Teaching Timetable
See your Exam Timetable
See your Modules & Marks
See your Awards & Results
See your GDP
Record notes of any discussions you have with them (which you will be able to see and approve)
Provide you with appropriate advice about your studies
Meeting Notes
When you have a discussion or meeting with your personal tutor, they must enter some meeting notes which you must approve. Until you approve the notes, your personal tutor can edit them. Once you have approved them, your personal tutor will not be able to make any changes.
If you disagree with the meeting notes, do not approve them. You need to request that your personal tutor edits them and you may then approve the revised notes.
Meeting notes will always be available to you even if you no longer have a relationship with that personal tutor.
When a Meeting Note has been added and is waiting for you to approve it, you will see an orange notice on your Personal Tutor page. To view the Meeting Note, either select the link in the orange notice or select the 'Review' button against the meeting.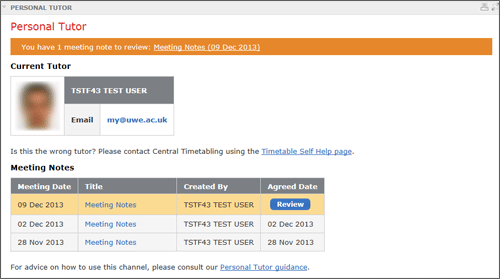 A popup screen will show the notes entered by your personal tutor.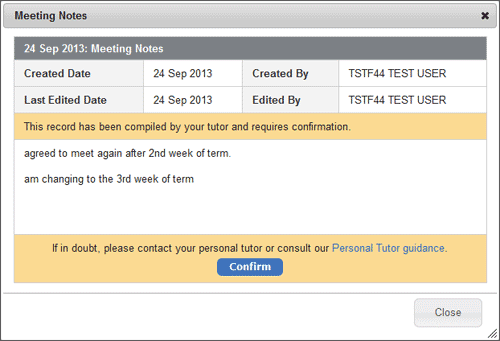 If you are happy that they are an accurate record of your discussion, select 'Confirm'. If you do not believe they are accurate, select 'Close' and then contact your personal tutor to discuss your concerns.