iCalendar
The iCalendar feed allows students to be able to view their timetable entries within their e-mail calendar function such as Google Calendar, Microsoft Outlook, Office 365 etc.
Detailed, specific advice on viewing your timetable in your UWE Outlook calendar is available separately.
There are feeds for your teaching timetable on its own, your exam timetable on its own or both your teaching and exam timetables together. All of your iCalendar feeds are displayed on the Teaching Timetable subtab and the Exam Timetable subtab.
Once you have added your iCalendar feed to your calendar, it will automatically (see note below about mobile devices) keep up to date with any changes to your timetable, however, it depends on how often your calendar function refreshes as to when your calendar is updated. Although most calendaring applications will refresh your iCalendar data periodically, it remains your responsibility to ensure that you are always using the most up-to-date timetabling information available from myUWE.
Mobile devices
Some mobile devices may give you the option to 'open' or 'save' the iCalendar feed rather than 'Subscribe'. If you choose to do this, your device will only show you a snapshot of the iCalendar feed at that point in time. It will not refresh periodically. In order for your device to refresh the iCalendar feed, you need to ensure that you 'Subscribe'. How to do this will differ between devices - we have provided instructions below for iPad/iPhone devices.
Android devices
Android calendars do not support iCalendar. As a workaround, using a web browser not the Calendar app, add the iCalendar feed to Google Calendar which should then display in your Android device's calendar application. Instructions on how to do this can be found on the Google help pages.
How to tell if you are 'Subscribed' to iCalendar
When in your calendar, the feed that you have added should show under the 'Subscribed' list. For instance, in the screenshot below of an iPad calendar, the UWE calendar is under the heading 'Subscribed' and is ticked.
If the iCalendar is shown under a different heading, for instance, in the iPad screenshot below, under the heading 'On My iPad', please follow the guidance on adding the iCalendar feed manually to your iPad/iPhone calendar function.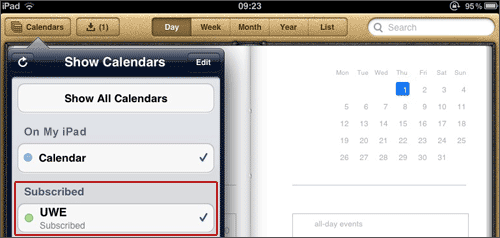 How to add the feed to your Calendar function
Your iCalendar feeds can be accessed from either the Teaching Timetable or Exam Timetable tabs. Under your timetable you will see the iCalendar section where depending on what timetables you have, you may see upto three buttons for the various iCalendar data feeds: Teaching; Exam; and Combined. If you currently have no timetable, you will see none of these buttons.

Single click on the appropriate button and the system will try to automatically connect with your default calendar function. You should receive a prompt from your default calendar function asking you to confirm that you want to add the feed and subscribe to updates. Once you confirm this prompt, the iCalendar feed should be added to your calendar function.
If you do not have a default calendar function set, you will receive a prompt telling you that no default can be found. You will need to add the iCalendar feed manually to your calendar function using the iCalendar feed URL which can be found by clicking on the Options button. Any iCalendar Feed URLs will then be displayed on screen (see screenshot example below).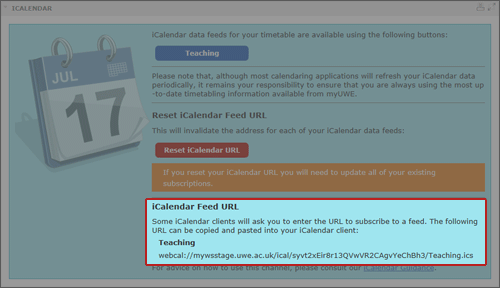 Once you have copied the iCalendar address you need to add it to your e-mail calendar function. We have provided steps below for how to do this using Microsoft Outlook, Google Calendar and Office 365, plus iPad/iPhone devices.
Microsoft Outlook
If Outlook is your default e-mail application, just clicking on the feed address link in myUWE or launching it in a browser, will add the feed to your Outlook calendar.
Alternatively, follow the steps below to add the feed to Outlook:
Open your Outlook, select

Tools

and then

Account Settings

.
Select the

Internet Calendars

tab and select

New

.
In the

New Internet Calendar Subscription

pop-up, right click and paste the address of the feed, then select

Add

.
Optionally add a description and then select

Close

.
The feed should now be showing in your Outlook calendar.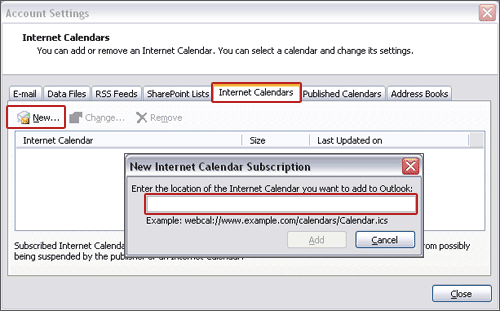 Google Calendar
Open your Google Calendar.
Select

Other Calendars

and from the drop down list select

Add by URL

.
In the

Add by URL

pop-up, right click and paste the address of the feed, then select

Add Calendar

.
The feed should now be showing in your Google Calendar.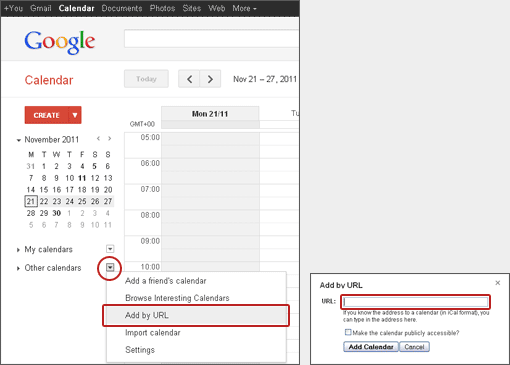 Office 365
Open Office 365
Select

Calendar

.
Right-click

MY CALENDAR

.
Select

open calendar

option.
In the

Internet calendar

field, right click and paste the address of the feed.
Select

open

.
The feed should now be showing in your Office 365 calendar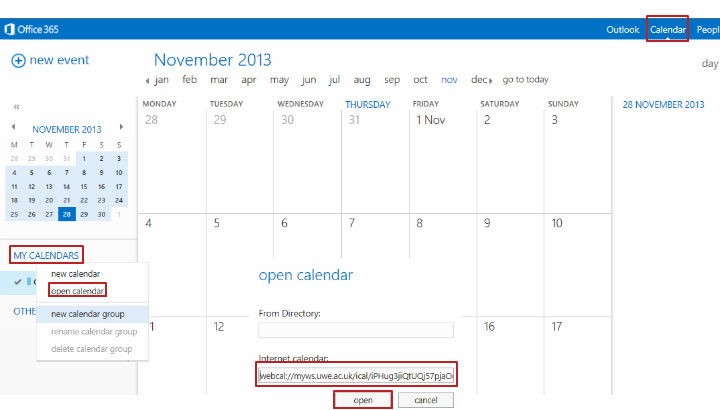 iPad and iPhone
Within myUWE, go to the

Courses tab

, then the

Teaching Timetable

subtab.
Tap and hold on the relevant green

iCal

button. A pop-up window will appear displaying the address for the feed you've selected - select the

Copy

option.
Enter the

Settings

area on your iPad or iPhone and select

Mail, Contacts and Calendars

.
Select

Add Account

.
select

Other

.
Select

Add Subscribed Calendar

.
Tap and hold in the

Server

field and select

Paste

.
Select

Next

.
Enter a

Description

, for example 'UWE'.
Select

Save

.
Enter your Calendar and select

Calendars

.
Your UWE calendar should be listed under

Subscribed

.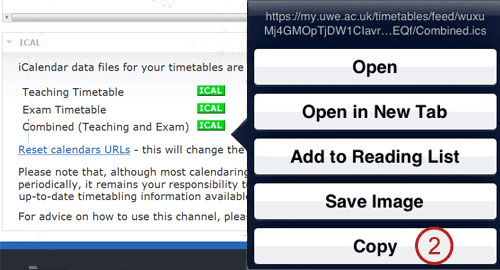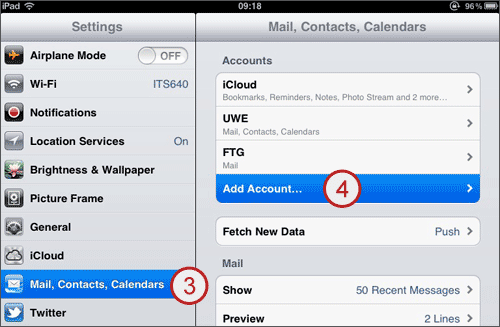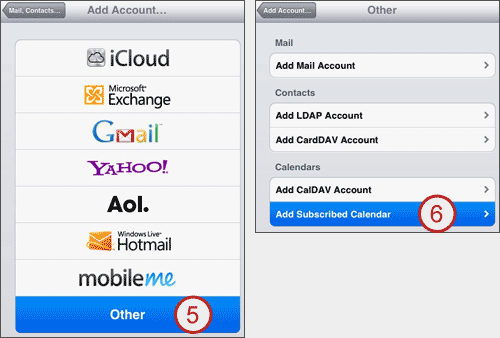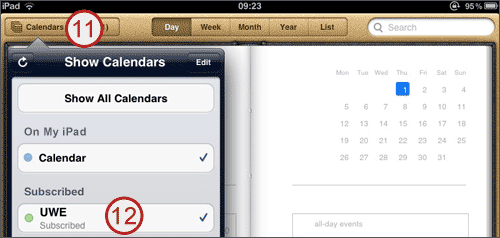 Resetting your iCalendar feed
The iCalendar feed address is individual to each student. If you believe that the security of your iCalendar has been breached and someone may have obtained the address of your feed, go to the iCalendar section of your timetable, select the Options button and then the Reset Calendar URL button. The latest URL will be displayed under iCalendar Feed URL.
Please note: Selecting the Reset Calendar URL option, will stop any existing iCalendar feed addresses from receiving further updates. Once you reset, you must update your Calendar with the revised iCalendar feed address.